About the 2023 Competition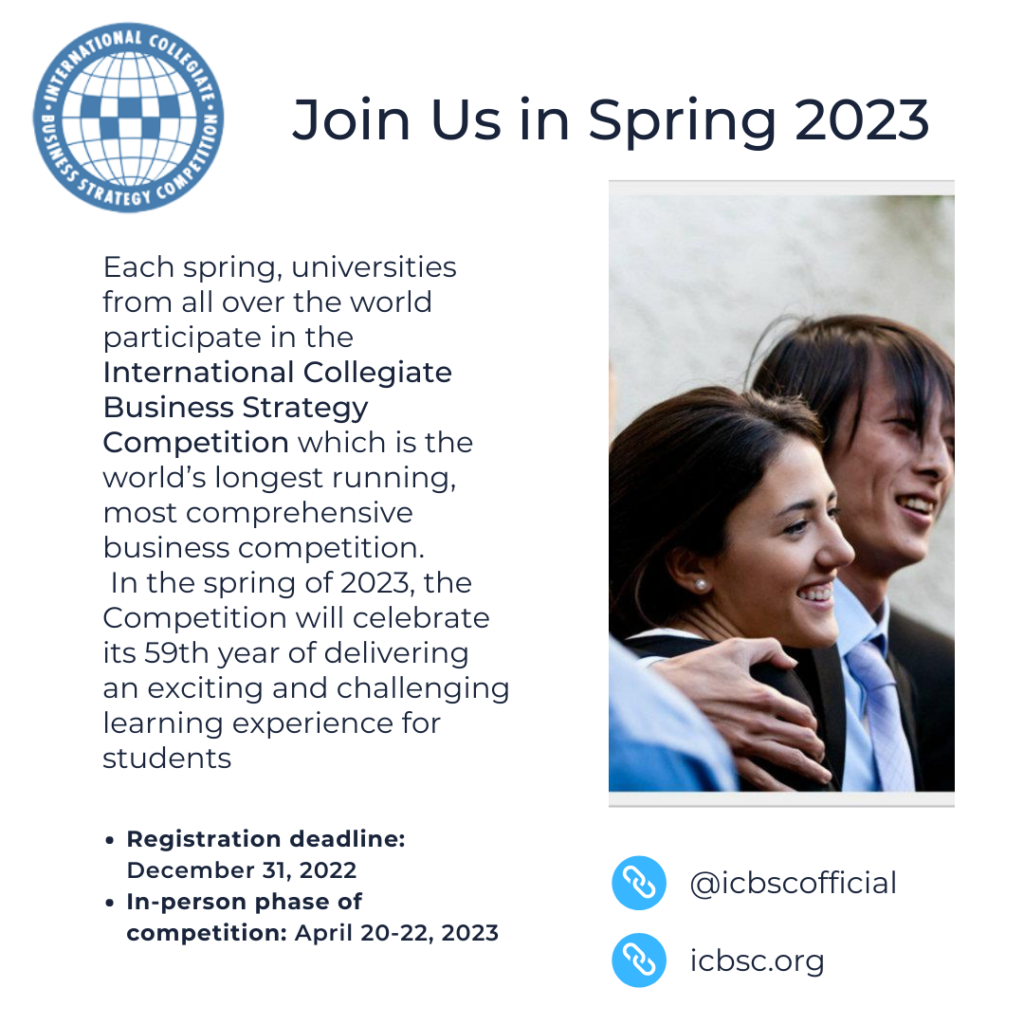 The 59th International Collegiate Business Strategy Competition will commence with its 10-week remote phase in January of 2023. Student teams will be organized into undergraduate and MBA "worlds," with four to six teams in each "world" competing directly against each other. The Competition extends over five simulated years, one calendar quarter at a time. Each team will receive all required materials, including their starting position files, and begin their work.  The first decision round is scheduled for January 31. 
The competition will culminate on April 20-22 with a three-day on-site intensive phase followed by an awards ceremony in Anaheim, CA. Trophies are awarded separately in each "world." The three-day intensive phase requires students to make decisions on an accelerated schedule. The teams will also have meetings with the judges, which are a mix of seasoned, senior level, management professionals and academics with a specialty in business strategy.
The Competition utilizes the Business Policy Game, an international simulation, designed to enable advanced business students to integrate and apply the theories of their business courses. The students become strategic managers of simulated companies competing against other business students acting as managers of their own companies. The simulated environment incorporates the economies of two countries and requires consideration of global and domestic strategy.
The planned schedule for the 2023 Competition is as follows:
Registration Deadline: The deadline for registration is December 31, 2022
Payment of Registration Fees: All registration fees must be paid no later than January 22, 2023
Team Corporate Charters with Student Names and Officer Titles and Contact Information:  All contact information must be provided to the Competition Administrative and Operations Directors by January 15, 2023.  A form will be provided to Team Faculty Advisors for this purpose early in January.
Competition begins on or about January 24, 2023 with disbursement of starting position files.  The First Decision Set will be submitted by student teams to the Competition via Internet by January 31, 2023 (6:00 AM west coast, USA time).
Written Strategic Plan for Years 4-7 of the simulated companies' operations must be emailed no later than March 6, 2023
(Years 1 and 2 are provided as history at start-up.)
The Tentative Decision Schedule for the 2023 Remote Phase is as follows:
Year 3, Quarter 1–January 31
Year 3, Quarter 2–February 7
Year 3, Quarter 3–February 14
Year 3, Quarter 4–February 21
Year 4, Quarter 1–March 7
Year 4, Quarter 2–March 14
Year 4, Quarter 3–March 21
Year 4, Quarter 4–March 25 (Saturday)
Year 5, Quarter 1—March 28
Year 5, Quarter  2—April 1 (Saturday)
Year 5, Quarter 3—April 4
Year 5, Quarter 4– April 8   (Saturday)
The On-site Intensive Phase April 20-22, 2023 at the Hilton DoubleTree Hotel in Anaheim, CA