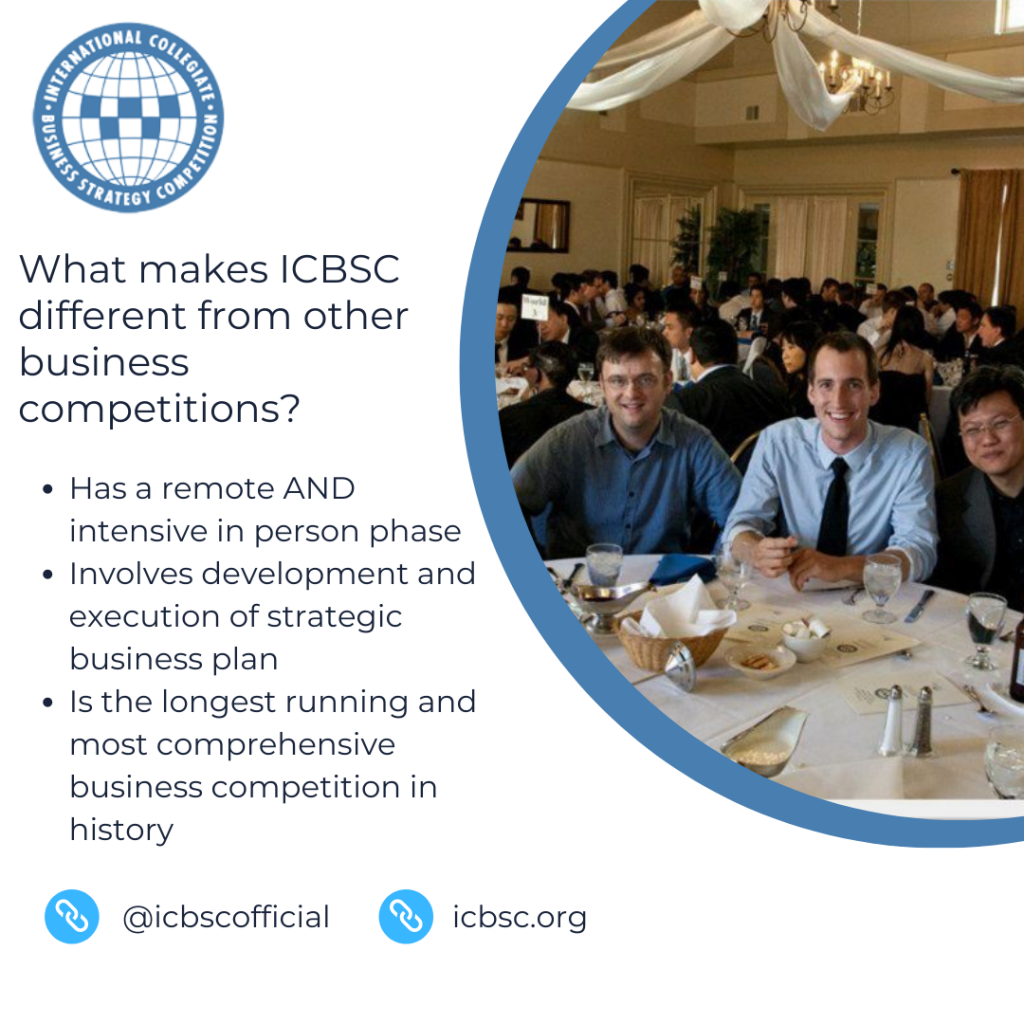 No other competition involves both a remote phase and an intensive phase.  While some competitions involve writing and/or presenting  a business plan for a company, this competition involves the development of  a Strategic Business Plan for a company, the EXECUTION of that plan in a simulated environment, the writing of an Annual Report, and a presentation to a "Board of Directors."  During the remote phase, students make up to 80 business decisions per quarter, per week for ten decision periods via the internet.  It is during the remote phase that student teams write their Strategic Business Plan and begin implementing it.  After ten weeks of remotely competing, all teams will then participate in three days of "intensive" competition, where they will meet their judges and other student team competitors.  The comprehensiveness of the simulation and the intensive phase are what makes this competition so unique and special. The International Collegiate Business Strategy Competition is the longest running and most comprehensive business competition in history.
Additionally, our judges are mostly highly experienced senior executives from industry. In 2020, our judging crew included current or former Executives from Juniper Networks, Shamrock Foods, Northrop Grumman Aerospace Systems, Intel, Stantec Consulting, Pacifica SD Management, and many more.
The ICBSC provides universities and their students with the following benefits:
Participating in the competition provides students with a career-building experience that they can use to stand out from other graduates as they seek employment.
Participation provides universities with the opportunity to provide their best and brightest business students with a competitive environment that will test the skills they have  learned while studying at your university. 
Universities will be able to compare the competitive business skills of their students with those from other universities.
Participating universities find that student engagement in learning and school programs is enhanced when they publicize their involvement in the competition.
 Participating in the competition will demonstrate to prospective students both domestic and foreign that your university provides award winning opportunities for business study.